Bullock Smithy Hike - 3rd September 2011: 'A long afternoon in the hills'
| | | |
| --- | --- | --- |
| | | Registration - speeded up significantly this year with the introduction of online entry and various computer systems. This is followed by the kit check. Check point arrivals are updated online during the course of the event. |
Four hours into the race ... Quarter of an orange in my mouth jogging along the side of the A623 away from the Peak Forest CP, then chuffing through a banana before ascending off the main road and into the fields. A few frisky cows, but not troubled - I wonder how Paul Rushworth will get on in a few minutes when he comes through? I leave the fields for the lane to Wheston and on the left in another field the cows in packs charge down the gentle slope towards the lane ahead. Amazing that they manage to stop - what's of interest - it's just Julian Brown going past - or was it Steve Temple? This is a quiet straight lane, no traffic and hardly a runner in site (ahead), and although there is a great sense of openness my thoughts are focussing on my left foot. Toes curling up and slight cramp make running - jogging - tricky. I adopt all sorts of rolling foot, long stride, short stride, running on the grass edge tactics. These take me through Wheston farm off the road and onto a track where I welcome the uneven ground. I'm slow. Paul has caught up and comes past quickly - I wish him well although it will be a tough challenge to now beat his pb of 10:02 from last year.
Down to Millers Dale and the spacious barn. I feel tired and a bit down hearted. One of the marshals asks with a touch of concern if I'm alright - "Yes". Descend down the steep path and ignore the tempting gate and track on the right. As in previous years I look along the road to see where this track might come out - no signs, best not to try it as a short cut. It's now a slog, grinding out the sections. Small targets - keep jogging up to the tree; have a drink when I get to the top of the brow. By now my stomach is saying no more food and my body is saying stop. Mind over matter is still winning and I struggle up to the Chelmorton CP, grab 30 seconds in a seat whilst water bottle filled and easily resist the offer of a donut.
It had started well for me, or at least as good as in previous years. With regulars Paul, Julian and Steve I was in good company, Steve making many stops, some impromptu, to maintain his regular fluid intake (perhaps I should take more note of this and follow suit another time). I'd felt strong along the rough track up to Edale Cross and enjoyed the fly past at low level by about 100 Canada geese and again when they did a repeat. I even had good speed down Jacobs ladder and along the track towards Edale - at least until the road section. Some fruit cocktail and cold rice and then another good effort up to Hollins Cross, and another good effort up Cave Dale, with some jogging and keeping up with Paul. We both were bemused by a madly barking dog that had cornered a sheep high up on one of the steep sides. The sheep was not going to budge, the dog was not going to give way despite many calls from its owners, and so various members of the dog owner's family were climbing up the steep slope presumably to pull it away. We did not see the conclusion.
I jog ahead once the climb eased in the upper reaches of Cave Dale and feel OK, then Steve T and Julian B go past (taking the alternative more direct and steeper route). Oh well, maybe I don't feel so good. Julian has such a casual loping easy style: "not fit enough to go for a win this year", he says having just returned from a 1200km cycle ride. It's on to Peak Forest with these two fading away into the distance, although I do meet Julian as he leaves the CP and I reach it.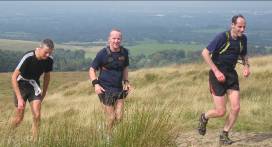 Julian, Paul and the author on the first ascent of the day in Lyme Park on the way to CP1, Bowstones.
Within a few minutes of the mass start at Devonshire park at 12 noon James had pulled out a bit of a lead. Wearing a minimal bumbag and with a strong even running style he kept pulling away. In the end James sailed round the course in a record time of 8:46 - this was so quick that he probably did not even have to contend with running in the dark - amazing and plenty of respect is due. There were other fast people following him - Stockport Harriers - with a number of them recording sub 10 hour times - very good.
(left) James Scott-Buccleuch, with tally card to hand looking relaxed and thoughtful before the start (just going through the route in his mind?).

(right) The leaders after a few minutes. The eventual winner, James is on the left, and the author at the back! Most of the leaders are from the Stockport Harriers.
And so my race continued from the Chelmorton CP with the next CP being Earl Sterndale and just before I reach it Charlie Sharpe comes past, his first BS. At the CP I take up the offer of the girl serving the food and have a jam sandwich - they have both sandwiches with margarine and without margarine. Actually it turns out to be really nice - fresh soft and tasty - I should have had two!
Charlie is ahead, he overshoots the turn off left to Dowel Dale so I briefly overtake him. He soon catches and overtakes me - so much energy and a big rucksack. My motivation now is to make it to Cumberland cottage before dark. Charlie soon disappears out of sight ahead. I don't hear the barking dogs at Brand End in the distance when Charlie should have been going passed - they do acknowledge me however. Hi to Brand Top (no hotdog thank you) and a gentle trot along to Knotbury, grey skies but no rain (yet). The heavy skies speed up the onset of dusk.
As I approach the tall steps at the top of the fields past Holt to cross the A54 Charlie appears. It transpires he made a wrong turn around Booth farm. He soon goes ahead. We meet again at Cumberland cottage which I reach without needing a torch and I'm soon out and continue down whilst Charlie changes his socks. Amazingly in his large rucksack he's carrying a spare pair of shoes as he didn't know what the underfoot conditions would be like. Soon down the track and on to the road without switching my head torch on but Charlie is well equipped and he comes past me for the fourth time, with head torch and rear light blazing. Apart from a distant sighting at Kerridge-end that's the last I see of Charlie until the finish.
What a slog around the roads to Walker Barn which for a change is a bit incognito with no gazebo and lights outside. Keep going keep going I urge myself, only one check point to click now. And so descend off the moors in the dark, gradually leaving the heights and coolness of the evening behind down Bull-Hill Lane and then Lidgetts Lane. The view towards Manchester's lights partly is obscured by the low cloud. Eventually the quiet of the Macclesfield canal is reached, sheltered from any breeze. Jog along the Towing path until bridge 25 appears, turn the corner and the CP and a number of people are there, which makes a change from the normal lone marshal and camper van.
Middlewood Way: trudge. As in previous years I go for the Wood Lanes approach. On these lanes when I take a drink it instantly reacts with my stomach which deposits its contents whilst I crouch and a few minutes are lost. On we go, not far now, Coppice lane, A523, and near the scout hut my daughter waits to welcome me back, great. 11:30, 11th, not bad. Such a relief to finish this year.
| | |
| --- | --- |
| | The author just after finishing. |
| | |
| --- | --- |
| Nigel Aston (8 starts) | Photo credits: Jane Aston, Nick Ham, Paul Rushworth |