Bullock Smithy Hike 4th September 2010: 'A long afternoon in the hills'
This year's Bullock Smithy organised by the scouts saw an injection of fast runners, a few really keen ones sleeping in vans for the few hours between registration and start. A record field assembled in the warm sun in Devonshire park and there was an obvious increase in the number of 'runners' for this annual 56 mile tour round the Western Peak District which starts at Hazel Grove. There's talk of some runners who have sub 2:30 marathon times in the locker – which would equate to some fantastical BS time. There's an air of anticipation with many runners and walkers looking for a good time this year.

Gathering in Devonshire Park before the start of the Bullock Smithy. photo Tracy Baker
I've plastered on the sun cream and wear minimal gear for what looks like a hot day. Knowing that the many miles of road are likely to play havoc with my aging legs I'm also trying out Hilly compression socks with the hope they'll reduce stiffness and cramps. The usual crew who've regularly filled the top ten places are all here (except 8 times winner Tony Okell) but surely it'll be one of the new fast boys to win this time.
We are started by the winning scout team from 1986 with a clout of the anvil. After 1 minute I find myself back in 15th place as we stream out South along the A523 beating the 'red' traffic lights. The pace settles and after 10 minutes I'm overtaken by a group of 6 who as a bunch overtook me during the last stage of last year's event. This was quite upsetting at the time and achieved partly because of their route choice but mainly due to me being tired. They jog along happily with Sally Keigher (a Jenny Meadows look alike and women's record holder in 11:27 from last year) in their midst. They talk about the end of the race and suggest I turned off the Middlewood Way too early last year and that cost me the 20 minutes deficit; I wonder if the same thing will happen this year? We arrive at a steeper part of the climb up Lyme Park, they walk, Paul Rushworth goes by and I tag on. We're about 8th.
The first checkpoint is quickly visited and then it should be bounce, if only I could, down the road and the sweeping curve to the other side of the gorge. Eat and drink on the uphill. Then it's pleasant going in the warm sun along a grassy path with great views down the valley and over Toddbrook reservoir. Steve Temple catches us up and makes a threesome. For the next few checkpoints Steve carefully manages his liquid intake with frequent stops for drinks from his bottles. He's advised me to do something similar this year and I'm giving it a go – more liquid intake in general. Its good to run with different people and I soon get the benefit as Steve demonstrates a 3 second short cut to locate the footpath after the level crossing in Furness Vale.

Descending to Chinley Churn, photo Nick Ham
We're soon climbing up the rough track to Edale cross, not much activity or danger from ridden Mountain Bikes – they're either pushing or resting – probably the heat. They do admire the runners as we go past even if we are walking. However, despite a few running miles training for the Bullock Smithy I've not done any fast walking and find it unnatural to push the walking pace. Jacob's ladder descent is a good one for leg damage so care is taken and grass used where possible. Steve enjoys this descent but he's feeling the heat and so takes a brief splash in the stream; then sprints off to Edale.
The compression socks are working and carry me on to the Edale cp; after a brief sit down I leave just behind Paul and Steve. Time to take it a bit easier on the climb up to Hollin's Cross. A few well behaved horses descending so nothing to dodge. At Hollins I hear the leader of a group of 'ramblers' congratulate them on being one of the fastest groups he has had; I run past and descend. A long stretch of solo running now, stumbling into busy Castleton for salt, water, sit then off – dodging people and traffic.
Its always good to get back out into the open again a I trudge up the confines of a quiet Cave Dale. There's someone wearing a dash of luminous material in the distance on the Limestone Way – a BS competitor slowing down and someone to chase perhaps? Well unlikely as I never see them again.
The cows are well behaved through the fields approaching Peak Forest. I nearly go the wrong way after coming down Oxlow Rake but friendly public direct me. I wouldn't mind a few minutes kip. Water and a slice of orange at the cp, and for amusement I do Frank Bruno gum shield impressions running along the pavement by the main road and up towards Miller's Dale. Once out of the fields and onto the road to Wheston I jog, But my legs are going, cramping and my left toes begin to curl up. I am aware of two slow ladies cycling up behind me and keep to one side. They must have observed me from a distance since as they reach me they warn me that they're coming – just in case I suddenly veer across the road.
Miller's Dale checkpoint is a little more lively, possibly because they have had more people through than normal. I am the only competitor at this moment in the cavernous barn where a few 'girls' are busy making gallons of soup, someone clips my tally and another lady says "its self service", when I ask about water replenishment. More salt taken on. I think I must be the only one using the salt supplies as each time the salt struggles to come out – being damp and not used since the scouts had their last fish & chip supper evening.
Now for some main road. Ascending out of Miller's Dale the gradient is sufficient to justify walking, so I do. Thankfully quieter than last year with no motor bike rally but still plenty of cars to avoid before Blackwell is reached. I'm enjoying the solo quiet running, going at my own pace and feeling quite content. It feels over half way and turning for home – 25 miles to go?
The Chelmorton cp is a little different this year – not the usual steamy tent. Outside I sit and get topped up with water, politely refusing the offered donuts. Off along the track, a little bounce has returned and I'm soon back on to the road. I've glanced round occasionally and not seen anyone. Now there is a voice behind. I turn and coming towards me are a bunch of about four runners. It turns out to be six as they reach me – its five from Sally's group that I 'met' at the start plus Steve Jackson (making a return to the BS after two years out). Steve models a more upmarket pair of compressions socks.
My favourite bit of the course along the yellow stoned Midshires Way by the quarry is forgotten about with the close presence of six other runners. I chat with Steve and wonder if it's going to be another 'equal' finish with him after three equals in the past. I'm struggling to keep up as a gap opens into Earl Sterndale. The group of five have vehicular support and possibly drinks too. I'm in/out the cp quickly so tag along with the bunch and they take some time to settle down with drinks in and drinks out during which we pass into the gorge flanked by Upper Edge and jog/walk the road to Booth farm. The group talk of upping the pace in order to get down past Cumberland Cottage in daylight. The pace is too much for me and I drop back but remain close enough as another short cut reveals itself with a different route around the Booth Farm lake, saving perhaps a minute off my normal route – and about 15 minutes on the contorted route I took on my first BS.

Dusk approaching at Booth Farm. Photo Nick Ham
The mad dogs (or dog) are much quieter than usual, with a token bark to the group in front of me and similarly for myself a few minutes later. Brand Top are a friendly bunch but I have to decline their offer of a hot dog whilst gratefully grabbing a few seconds seated to fill with water & powder. As I descend the leading group are on their way up the road towards Flash, that's the last I see of them. By now I'm back into my own rhythm, solo and gently descending towards the peaceful hamlet of Knotbury wondering whether the light will hold for me to get down to Cumberland Cottage. I cross the A53 and its light enough for no torch, hurray, now descend carefully – nothing silly I tell myself. Its great to have dry conditions and I wonder whether the 'marshals' will be in or out the cottage. There are normally lights on and a light to mark the path up to the cottage, maybe even a real fire going. This year it's very quiet and dark – because the marshals are still outside. I sit briefly to top up water; they offer me cake whilst discussing what 'take away' they are going to order – Chinese, Indian Fish & chips –their main problem being how to get it to the cottage! Out comes head torch, but no need to switch on just yet as I get down to the road where jogging with no light is easily possible.
More road and more road. My legs just struggle so much with stiffness and more toe cramps. I jog until running on increasingly curling toes becomes unbearable then walk. Although my plan was always to take the longer low road it now becomes tempting to go for the Macclesfield Forest track to avoid flat tarmac. I turn my mind's offer down and plough on. This is a horrible section of narrow road going slowly uphill, possibly into the wind, with cars approaching quickly in the dark a good reason to be wearing fluorescent markings. No other competitors around though and I think of a top 20 finish as I arrive at Walker Barn on my own. When I emerge two other runners have arrived (Neil Pettie and Peter Davis). I'm away down the road in the dark and nearly over the field shortcut into Rainow when Neil shows me the way. He then gets a mobile call from his wife and explains he's only 5 minutes from home – local knowledge has really boosted his finish as he bounces along the road willing his partner to move quicker. I stick to their heels to Bollington partly because I've got a temporary block on whether its right or left at the T junction. Then another short cut as Neil's local knowledge comes into play again; interesting. We get to the canal and the two boys kick on talking about sub 11 hours, although they know it's tight. Good luck to them.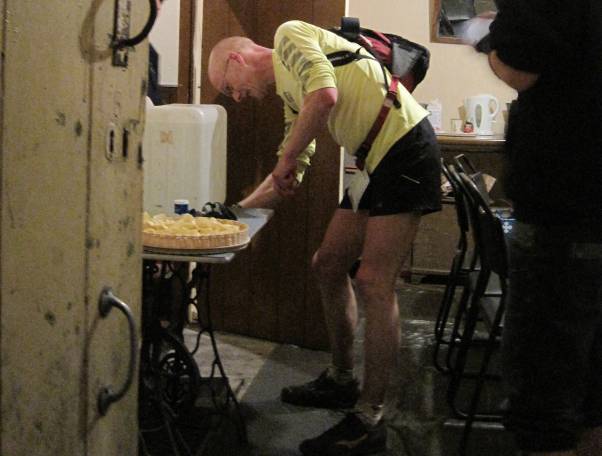 Steve Temple refuelling at Walker Barn, photo Tracy Baker
Bridge 25, hurray. Last cp. Very well lit this year and most welcoming. I sit, out comes water bottle, its still half full so I sip and decline the offer of a top up, stiffly get up and head off for the last section. Along the Middlewood Way, shuffling, walking, shuffling urging the bridges to some by. Instead its two more runners who plough past quickly at a great pace (Lee Barratt and Andy Fowler). Mentally I am just focussed on the finish, getting into my car and lying down for some sleep. Actually that's been the case for the last few hours. Wood End – I go for this route despite the advice from Sally's group near the start. Route finding is easy and soon it's Towers Road. Nervous glances behind – no one; down the A523, still no one. Jog from the traffic lights to the finish, great.
Enter scout hut and out come the huge scissors to remove – the tally card. Finished. Just enough energy to enjoy the polite burst of applause and then sit down. There are far more people around than normal, Paul is quite relaxed – its a PB for him in a great 10:02 and 4th place. He'd gained on three others who'd messed up at Three Shire Heads Way (a mistake I'd made on my first BS in the dark accompanied by a bonus soaking in the river). He was lucky to make it though after apparently falling flat out in the dark over a Towers Road speed bump.
A time of 11:17 was 'acceptable' for me. A position of 19th put me in my place though. Three years ago that would have been good for third! The Bullock Smithy has suddenly got popular with quality runners, new faces. Paul lists the top finishes and actually three of the top four places are occupied by regulars – Mark Ollerenshaw with 9:05 does a fantastic time, Steve Temple in at 9:42 another great time. Steve Jackson in with 10:55, a great comeback time just losing out to a huge bunch of 8 ahead. A great debut from 2nd place Ian Symington at 9:14 – just wait till he learns the short cuts. Even stalwart Nick Ham ('the long distance runner') breaks 12 hours. Overall though it's the women's record that has really taken a hammering with a brilliant 10:35 by Sally Keigher and her group. Neil and Peter with their fast finish clock in at 11:01, just outside their sub 11 target.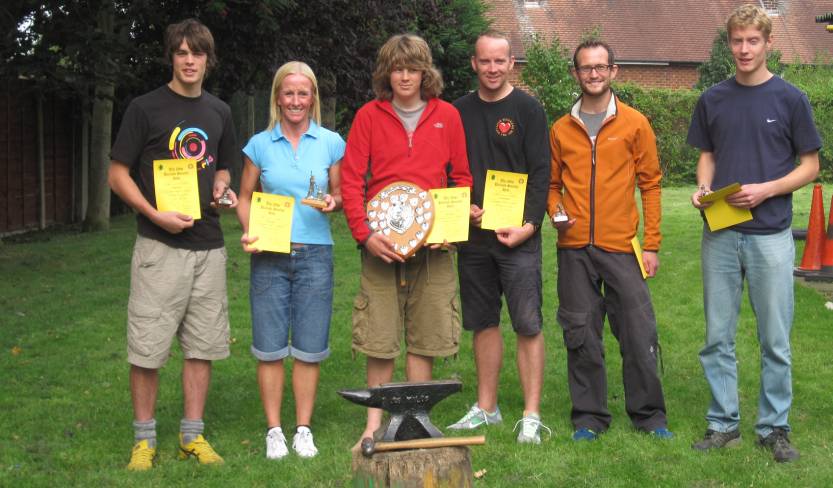 Mark Ollerenshaw (first) and Sally Keigher (first lady) and other 'winners'. photo Tracy Baker
The long afternoon in the hills had come to an end. I did enjoy my immediate lie down in the car. As last year, later during the night the rain fell, gently, but hopefully this did not deter those still walking in.
Nigel Aston (7 starts)