Bullock Smithy Hike 5 th September 2009: - 'Beaten by the magnificent 7'
Another forecast of 'rain later' as last year. So, with overcast skies at the start it meant no need for sun cream or a cap, just a long sleeve Hele. Explorer scout leader Steve Holt warned us of mountain bikers and car rallies that might cross our path during the hike, and then a group running for the Harley Slack charity hit the anvil to start us off. I'd made extra sure of stretching things this year as my training for the event had been poor due to lower leg stiffness/cramps and I was wondering whether my body would hold up this year. So I was pleased to be jogging 'comfortably' along the road with the leaders. 265 starters this year - fantastic and 204 of those finished in the 24 hour time limit.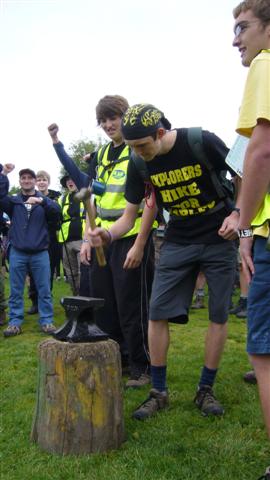 Start of the Bullock Smithy by "Harvey Slack" charity walkers . Photo: Nick Ham
I expected Tony Okell (12 starts, 8 wins!) to lead us out - not this year, he was taking part with his sons at a walking pace. So it was Julian Brown (11 starts), Mark Ollerenshaw (2 starts, 1 win), Paul Rushworth (17 starts) and myself (5 starts) jogging in the lead with the Watts close behind. Julian admits to being unsure of the way near the start - he's always followed people at this point. Mark had said he was nervous at the start - perhaps because he has a 'favourite' billing. Once underway his nerves have settled.
The light breeze is behind us as we climb up to Bowstones, where Mark, then Julian stretch out ahead. The overcast conditions are ideal and help keep us cool although water refreshment is still welcome after the checkpoint. However I'm only just keeping up with Paul. We meet a chap on a mountain bike (15 starts) - he's doing the course! His ankle is dodgy and he couldn't bear not to do the event so he's going round on the bike. We pass and re-pass him many times on the first few stages as he lifts his bike over numerous stiles and pushes it up the hills. He becomes an ally through a cow field, as the cows take more notice of him than Paul and myself. Later on though, in another field, without bike decoy, Paul decides to hop over the other side of a wall rather than walk through the cows.
I last see Mark and Julian in the distance near the top of Chinley Churn and they look to be only a minute apart - should be a good battle for the rest of the day. The second drink/food stop is well set up with gazebo, tables, cars, people. I take a chair and get someone to fill my bottle whilst adjusting shoe laces (any excuse for a sit down). Its usually around here that Steve Temple (8 starts) comes whizzing past - no sign of him though - he's back competing this year after a leg operation so probably taking it easy.
Once on the main ascent to Edale Cross I feel the pace and Paul pulls ahead. Its mainly a walk for me up the rough track, punctuated by up and down mountain bikers. Descend rather than plummet down Jacob's ladder this year; -nursing legs and continue to do this to Upper Booth farm by using the grass verges rather than the tarmac. The temperature has risen, the sun is out and I'm thinking I wish I'd brought my cap and dabbed some sun cream on. As I reach Edale Paul is just leaving - my last sight of him. In the far distance a speck climbs up to Hollins Cross - either Julian or Mark. This year Edale cp is both indoors and outdoors. I visit the indoors supplies to see what's on offer and despite the pleasant saleswoman (check point helper) decide to carry on with my own bits and pieces.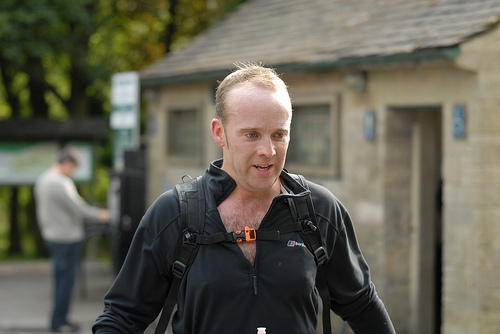 Paul Rushworth third at Edale . Photo: Adam Kendrick
The ascent to Hollins Cross is met with an unusual hazard this year - pony trekkers. They each begin their steep descent down the path worried for their safety and whether the horse will slip. I am coming up and am worried for my safety and whether the horse will slip. Thankfully walker and horse negotiate each other without incident. Down to Castleton, nursing my legs, but managing to jog. There is so much hustle and bustle in the hot car park I just shut it out and home in on the cp at the far side. Their usual jam sandwiches are on offer sealed in a container for freshness and to avoid wasps - I take just ¼ and try to dissolve it in my dry mouth. It's get out of Castleton quick onto the quieter and cooler Cave Dale and time to plod and refresh.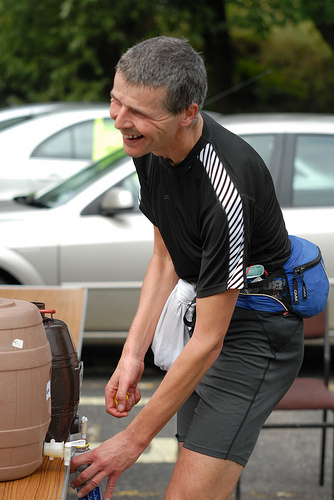 ---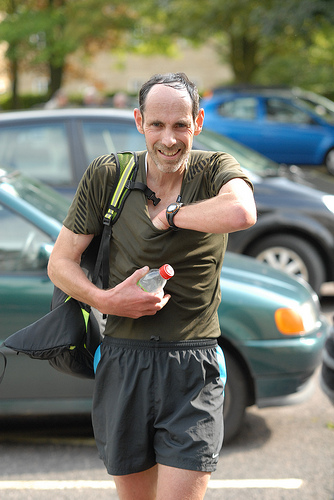 Julian Brown stops for drinks; the author some way behind retrieving tally card at Castleton. Photo: Adam Kendrick
As last year I find myself in 4 th place. However, my legs are stiff and I'm slowing so glances behind become more common place but there's no one to see. Then at the top of Oxlow Rake I am 'Templed'. Steve Temple just appears and then whizzes off down the Rake looking bouncy (after 22 miles) and going smoothly - well done. He charges through the cow field and ignores the close attentions of one of them.
Peak Forest cp: as with all cps this is well organised and time for some fruit - banana and orange. I jog sucking orange and holding banana along the A623. It's a relief to get both bits eaten and concentrate on avoiding the road traffic. I make it to Wheston just in time as the farmer has rounded up his cows - in his Range Rover - for milking. They just start to tramp out onto the road after I've gone past. The path to Miller's Dale is muddy but better than last year. At the cp I find Mark O sat in a chair, retired - "What's up?" "Stomach", he replies. I take water and go - rejecting the offer of bread and soup and hot drinks.
The road to Blackwell is buzzing with motorbikes; I'm passed by the 'girls on tour' entourage, with one rider wearing a pink tutu - on top of her leathers. I get a brief sit down at the Chelmorton tented cp, water bottle filled but no food taken - the pyramid of donuts are too overpowering for me.
Away down the path/road and out onto the quarry track with no one around in front or behind. Across the grass to Earl Sterndale with no trouble from cows this time - they are just placid. I take a ½ jam sandwich at the cp and manage to eat some of it travelling down the road. The breeze has lessened and its really quite pleasant - which is more than can be said for the next section of track which is covered in liquid mud mixed with cow **** and requiring a narrow traverse round the edge to avoid disgusting shoes. As I reach the top of Edge Hill I glance back to see someone catching me - I assume it must be Mark McDermott (9 starts, 2 wins) who has a good finish in him, and I'm slowing. At the dog kennels - barking mad - my pursuer does catch me - but not Mark, it's Nicky Spinks (1 start). Wow, she's doing great. As we run together I try to keep up which leaves me little energy to speak. We travel together for a while and after guessing that at my pace I'd finish around 11:40 she is excited as at her pace she has a chance of setting a new women's record (currently around 11:55). She goes ahead to Knotbury and then waits until I catch up for confirmation of directions. We travel together to Cumberland Cottage where the check point 'officials' have just moved indoors as its now dark. Time for head torches and a quick sit down whilst my water bottle is filled again.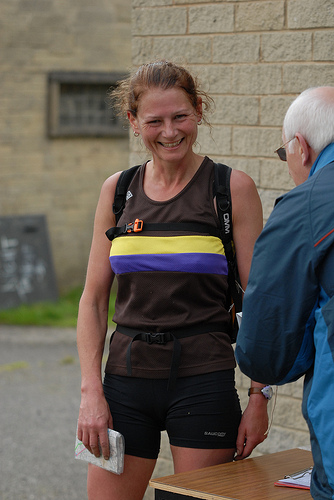 Nicky Spinks at Edale. Photo: Adam Kendrick
Away down the remainder of the track in torch light and once on the road Nicky pulls ahead and is soon gone. I am able to walk/jog at my own (slow) pace. There's a chill in the evening breeze approaching Walker Barn, stirred by the odd passing car. Thankfully no car rally though as probably this is the most dangerous section. My torch is off as I approach the brightly lit bustling Walker Barn cp. They still spot me and I'm guided to the back room ... for water by an exuberant Nick Ham. The cake is only mildly tempting. I nibble at my KMC once I've left and swig the water.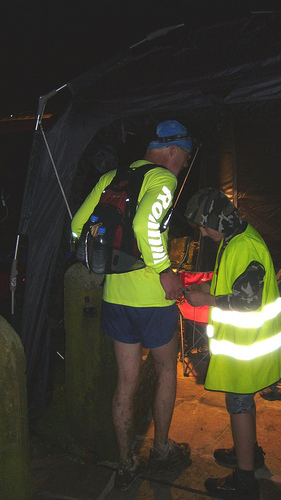 Steve Temple third at Walker Barn. Photo: Nick Ham
Descending now, out of the cool breeze and along the Rainow track and then into Kerridge. Past the pub and the road sign "Jacksons Close" - although yet again there is no Steve Jackson (23 starts) this year. Along the canal; bridge 26 then bridge 25 and the last cp at Whiteley Green. More water and another seat - the last sit down before the finish all being well. The solo cp manner is on the ball with his usual camper van.
I fail to get jogging along the start of Middlewood Way, but eventually the jog does happen and I look out for the bridge numbers. Now in 5 th place I listen for any other competitors as its quiet in the moonlight along the shaded track. There's no one around except someone from the Bullock Smithy helpers entourage who shouts random encouragement. A plodding jog and medium pace walk then onto Wood Lane and to Coppice road.
Still no sign of anyone else so perhaps I will finish 5 th . However, if anyone one did catch me I'd have no legs to go with them. Then the opposite happens and I see Nicky running the wrong way down Coppice road. She's very pleased to see someone as her bearings have gone. She is still harbouring the women's record even though she's been going round in circles for 10 minutes. So on enquiring whether I can jog and getting a resounding "No" she is pleased to be led onto Towers road where she scuttles off and finishes 4 minutes ahead of me.
On approaching the scout hut I see Tony Okell and boys - they retired when over half way round. So eventually I make it into the scout hut and loose 7 seconds by not handing my tally card in straight away. However I'm already chuffed with finishing today and my chuff increases when I'm cheered inside the scout hut (everyone gets a cheer from their fellow competitors). Julian, Paul and Nicky are there - I assume Steve has already gone. Julian is well pleased with his win, Paul is brimming with a new PB but Nicky looks forlorn. Did she beat the women's record? Well I'm told to look around and there are a number of other 'people' in the room. I'd assumed they were helpers or retirers. It transpires that they all came in joint 4 th, 9 minutes before me - all 7 of them. As two of the magnificent 7 - Sarah Lomas (1 start) and Sally Keigher (2 starts) - were women then they now hold the women's record of 11:27. Poor Nicky - if only she'd not done 10 minutes of circles. I wonder how they could have all got past me in that last section. Perhaps there's still room for some route optimisation?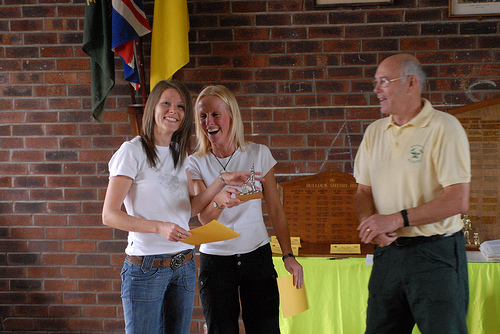 Delighted new ladies record holders Sarah Lomas and Sally Keigher: 11:27. Photo: Adam Kendrick
I slip off to the car feeling sick and am. After that I get some rest. My buzz at just finishing this year stays with me for days. No wonder there is such a desire from people to come back year after year.
Nigel Aston (6 starts)